Hintlesham War Memorial - The Great War
1914 - 1919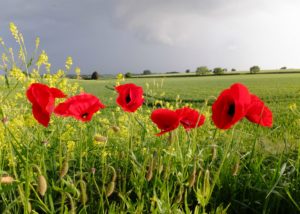 Pte Charles Chaplin 3/0939 2nd Bn Suffolk
Killed in action 20 December 1914 aged 20
Charles George Chaplin was born in Kirton in Suffolk and brought up with his sister, Charlotte, by their grandmother in Raydon Road. Charles enlisted in Ipswich and was killed in action serving in France and Flanders. He is commemorated on the Menin Gate Memorial (Panel 21) in Ypres, Belgium.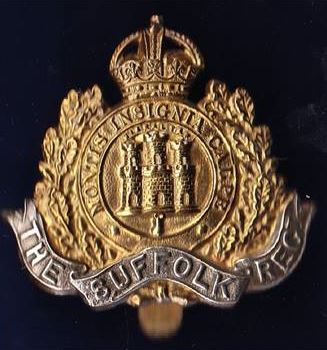 Sgt Frederick Cuthbert MM 24380 Royal Garrison Artillery
Died 30 October 1918 aged 30  
Fred's father, John, was a stockman and farm labourer and his mother was Harriet. Fred was born in Hintlesham and was one of 7 children. His younger sister married Horace Gant who was also  killed in the Great War and came from  Hintlesham. The family later moved to 15, Camden Row, Pinner Green, Middx.
Fred was a "hammerman" (perhaps a foundry worker) and lived at 23 Hayhill Road in Ipswich when he enlisted on 9 December 1914 in Ipswich.  On Fred's attestation papers of 1914, he is listed as being 22 years and 10 months old.  However, on his gravestone his given age in 1918 was 30.
Sgt Frederick Cuthbert  serverd with 276th Siege Battery, Royal Garrison Artillery and was awarded the Military Medal (MM).  He was killed in action and is buried at Poix-Du-Nord Communal Cemetery Extension, France.
The photograph was taken  by Fred's descendants who visited the grave in 2014.
.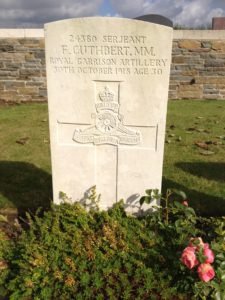 Pte Percy Ellis G/13252 1st Bn Queen's (West Surrey)
Killed in action 3 November 1916 aged 21
Percy was born in Essex (possibly Romford or Kirby Le Soken) and lived on Back Road in Hintlesham. He was born around 1895, the son of Frederick (an undertaker's wood sawer and wheelwright) and Mary. Percy was a farm labourer before enlisting in Ipswich. He was killed in action is buried at Serre Road Cemetery No 2 in the Somme region of France. Plot: XXXIII. E. 2. Percy was Hintlesham's 5th and final Somme fatality.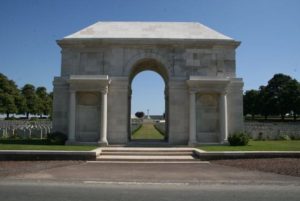 Pte Albert Game 200910 4th Bn Suffolk
Albert's father, James Isaac Game, was a retired Royal Dragoon and watchmaker. The family lived in George Street. Albert enlisted in Ipswich and served with the Sufffolks in France and Flanders. He was killed in action on the Somme in 1916. Albert is commemorated at Caterpillar Valley Cemetery (see photograph), Longueval, France. Albert was the third local man to be killed in the 1916 fighting on the Somme.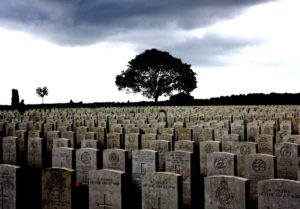 Pte Horace Gant 18495 2nd Bn Suffolk
Died 13 July 1916 aged 30
Horace Josiah Gant was born in Elmsett in 1884 before the family moved to Hintlesham sometime between 1891 and 1901. By 1911 he lived with 2 brothers and a sister in George Street. Horace was a farm labourer and he married Ellen May Cuthbert, a domestic servant at The Hall, Belstead on Christmas Day 1912 in Hintlesham Church (See connection to F Cuthbert below).
Horace enlisted in Ipswich and was Hintlesham's first casualty of the Battle of the Somme. He is buried at Carnoy Military Cemetery, France. Horace & Ellen had a son - Horace Walter Gant - born in Hintlesham on 19 Dec 1913. Horace also had a sister, Alice Sarah Taylor (nee Gant), who was a civilian casualty of World War 2 when a bomb was dropped on Elmsett on the night of 12 May 1941. Ten people were killed including five members of the Taylor family.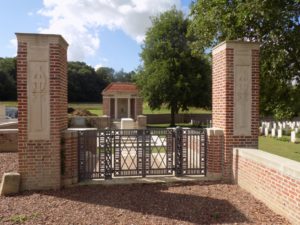 Pte Jack S Gant MM 5574 17th Bn Australian Inf. A.I.F
Died 19 November 1918 aged 31
John Samuel Gant born in Whatfield in 1887.  He was known as Jack and was the second of seven sons born to John and Laura Gant.  He jack brought brought up at Mill Farm in Hintlesham and went to school in the village.  Jack was a labourer and in the 1911 census his job was given as "Assisting with sheep".  On 31st July 1912, aged 25,  he boarded The Norseman which took him, on a third class ticket, from London to Sydney, Australia.
Jack's new life in New South Wales saw him living at "Luckhurst" in a small town called Canowindra* (pronounced: Can-nown-dra).  There, they farmed sheep and wheat.
Jack enlisted on 25 March 1916 and following his medical he was described as being of "fresh" complexion, 5 feet six and a quarter inches high, with grey eyes and brown hair. Furthermore, his medical record reveals his left big toe over-lapped his other toes.
Jack embarked from Sydney on HMAT A14 Euripides on 9 September 1916.  The ship, which had been requisitioned by the Australian Government arrived in Plymouth following a seven week voyage and eventually docked in France  on 13 December.  Jack served on the Western Front and was wounded in the left thigh on 3 March 1917  resulting in his transfer to back to England where he was admitted to a hospital in Wandsworth, London.
In June 1917 Jack was deemed fit  for service and returned to the front. In the late summer of 1918 was awarded the Military Medal for bravery.  The citation reads:
'During the attack on MONT ST. QUENTIN, near PERONNE, on 31st August 1918, this man was a company runner. The successful communication of the company with flanks and battalion Headquarters was absolutely dependent on runner, as owing to enemy pressure it was impossible to lay telephone wires. He worked incessantly for 18 hours, through heavy and continuous artillery and Machine Gun fire, and never once failed to deliver his message to the front line, although time and again, sniped at by the enemy, who overlooked the position from 100 yards distance.'
Source: 'Commonwealth Gazette' No. 115 Date: 10 October 1919.
During the battle,  Australian troops stormed, seized and held the key height of Mont Saint-Quentin (overlooking Péronne), a pivotal German defensive position on the line of the Somme. The  Australian forces  crossed the Somme River on the night of August 31, and broke the German lines at Mont Saint-Quentin and Péronne.  The British Fourth Army's commander, General Henry Rawlinson, described the Australian advances of August 31 – September 4 as the greatest military achievement of the war.
On 3 October 1918 Jack was again wounded in action;  this time receiving a gunshot wound to his head and injuries to his shoulder.  Jack was treated at a hospital in Le Havre but died of pneumonia, eight days after the Armistice,  on the 19 November 1918 and is buried at Ste. Marie Cemetery, Le Havre (see photograph).  He is also commemorated on the Australian National Memorial in Canberra (see photograph) and at Canowindra Soldiers Memorial Hospital in New South Wales (see photo).    Digital copies of Jack's service records are freely available online from the National Archives of Australia .  (Please see NEWS for update.) Jack's younger brother, Thomas, also died in the Great War.
Gerald Main interviewed on BBC Radio Suffolk 17 January 2020
*Thanks to Canowindra Historical Society & Museum for their help in compiling this entry.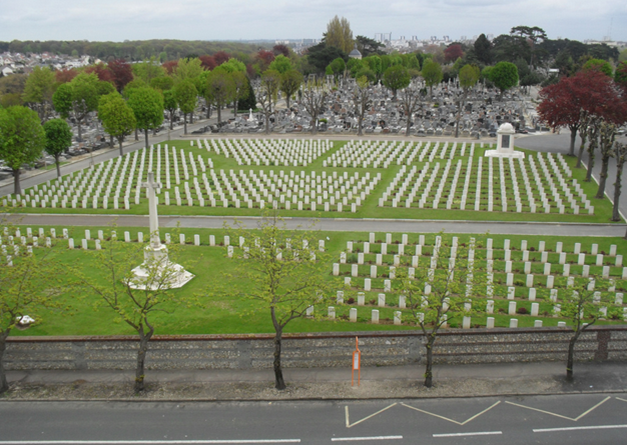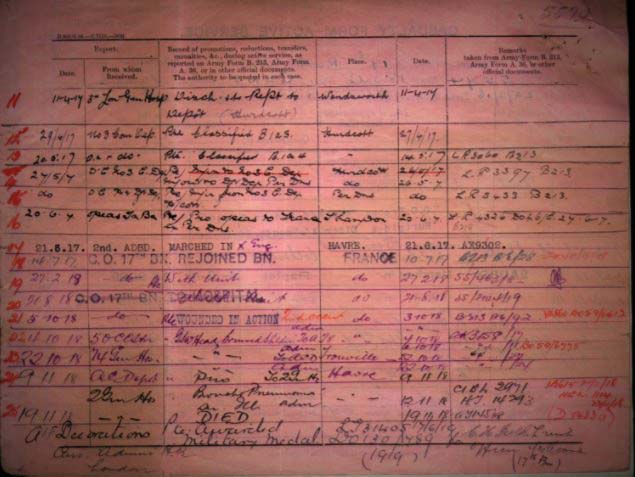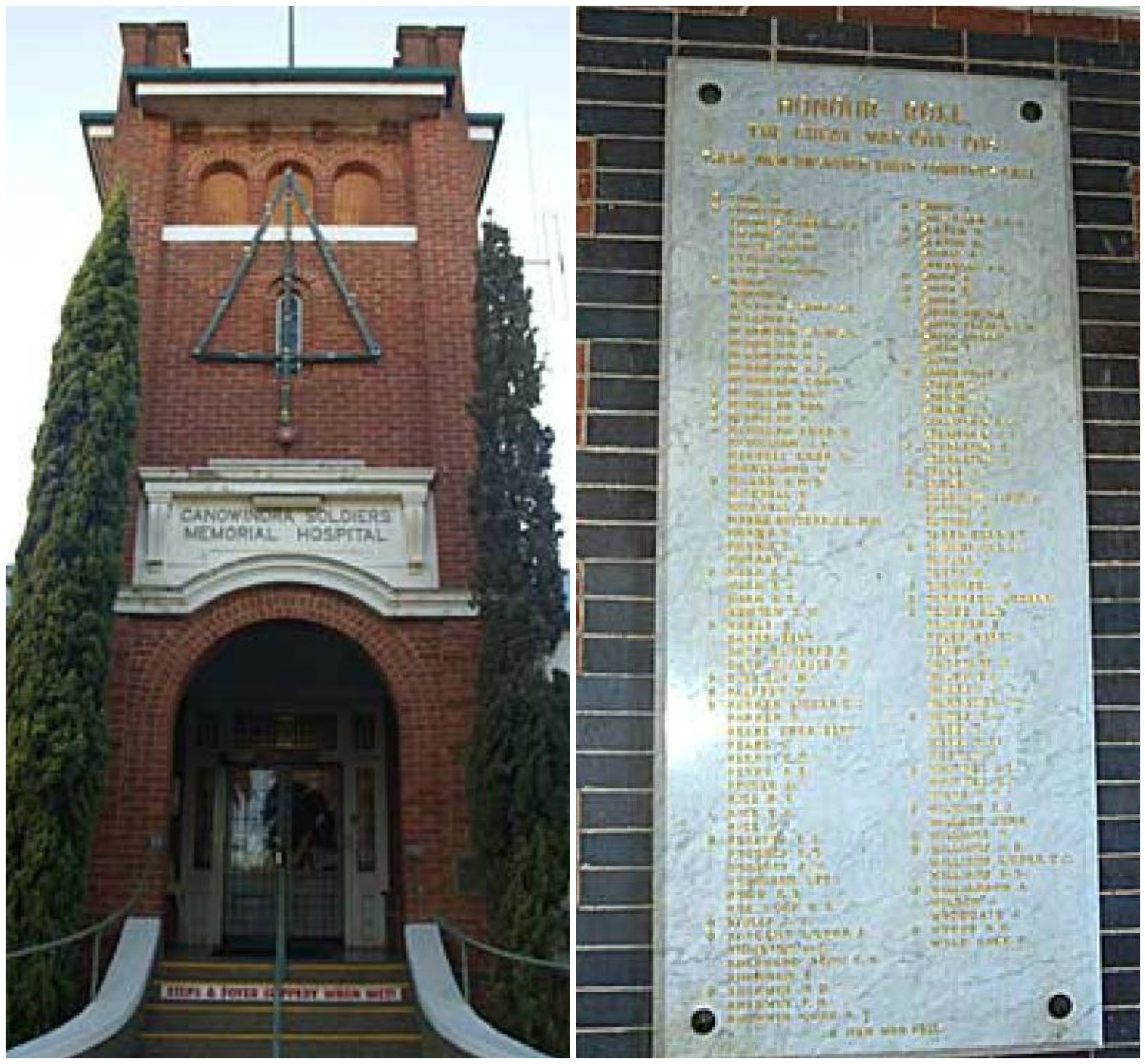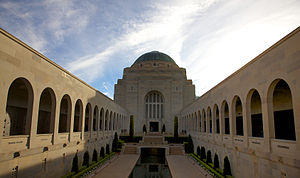 Pte Thomas J Gant 19217 6th Bn East Yorks
Died 26 September 1916 aged 19
Hintlesham's fourth casualty of The Somme was Thomas J Gant. He was the youngest of seven sons born to John (a shepherd)  and Laura Gant (nee Hammond) in 1897 and lived at Mill Cottage in Hintlesham.  Laura died in 1900 and John married Alice Eliza Taylor in 1902.
Thomas is commemorated on the Thiepval Memorial (see photograph) – pier & face 2C. The Memorial to the Missing of the Somme, bears the names of more than 72,000 officers and men of the United Kingdom and South African forces who died in the Somme sector before 20 March 1918 and have no known grave. Over 90% of those commemorated died between July and November 1916. Thomas's older brother Jack also died in the Great War serving with the Australian army.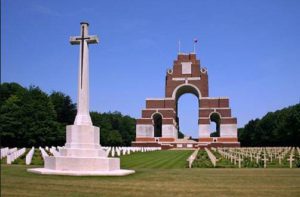 Pte Arthur Green 27992 / 55584 1/6 Bn Welsh
Arthur William Green was born in Hintlesham and lived at Akenham. His parents are believed to be Charles and Sarah Green who lived at Old House Farm in Hintlesham. Arthur enlisted in Bury St Edmunds and first served with the Norfolk Regiment before becoming part of the Welsh Regiment.
Arthur was a driver, trained in the management and use of horses. The six horses drawing the gun, or wagon, were driven by three drivers, all on the nearside horses, and much training was required before drivers would be rated as competent. The drivers also looked after the horses and the management, condition and state of health of these animals was regarded as one of the most important functions in the battery.
Private A W Green is buried at The White House Cemetery, St Jean-Les-Ypres, Belgium. Arthur's brother, Frederick John Green, was also killed in the war.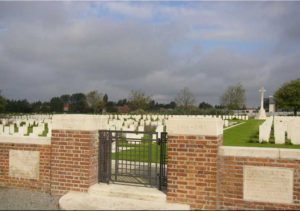 Pte Charles L Green 4555 2nd Bn Suffolk
Killed in action 26 August 1914 aged 34?
Charles Leslie Green was born in Hintlesham in 1880. His parents were Sarah and George Green. He enlisted in Ipswich and died on the same day as Orlando Lloyd (below) and is commemorated on the La Ferte-Sous-Jouarre Memorial. Both Charles and Orlando were members of the British Expeditionary Force. At the outbreak of war he was based at the Curragh Barracks in Ireland. The battalion moved to England before arriving in Le Havre on 17 August 1914. The battalion's first action followed the BEF's retreat from the Battle of Mons. Charles and Orlando were killed at the Battle of Le Cateau, the second battle of the Great War. Details of the regiment and the Battle of Le Cateau at http://bit.ly/1nUY3yT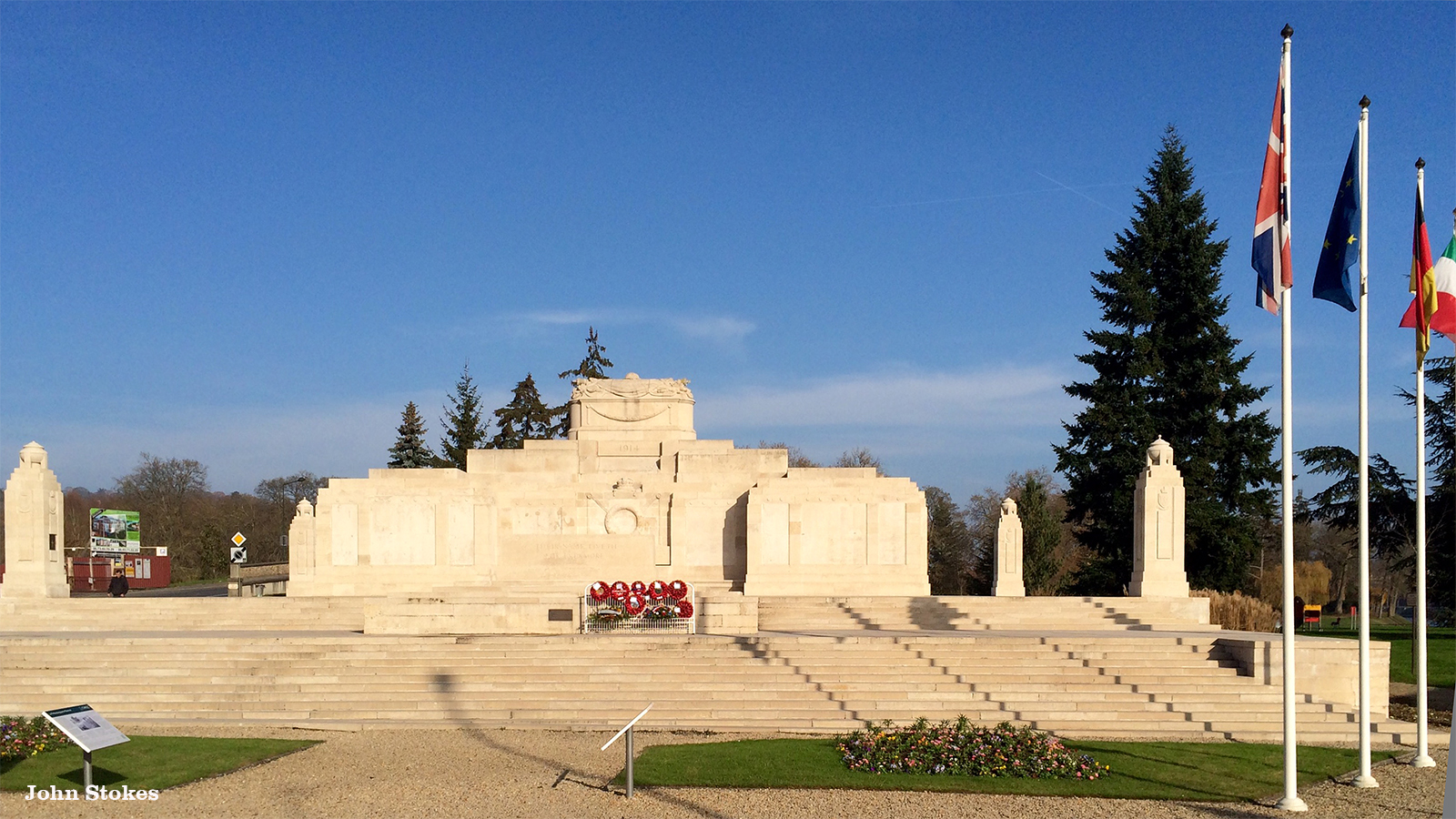 Gunner Frank E Green 36028 Royal Garrison Artillery
Frank Edgar Green was born in Hintlesham in about 1891. His father, Alfred, was a labourer and his mother, Mary, a dressmaker and they lived on George Street at the turn of the century before moving into Duke Street . In 1911 he enlisted enlisted in Ipswich and in the summer of 1916 he married Alice E Beaumont.  Frank  died in hospital in Dar Es Salaam, Tanzania aged 26, At the outbreak of the First World War, Tanzania was the core of German East Africa. Frank's brother, Wesley, was also killed in the Great War.   Frank's grave is 7,022 miles from Hintlesham while his brother's, in Istanbul (Constantinople) is 1,939 distant.  Their names on the memorial in Hintlesham are on the same panel, while their graves are 8,030 miles apart.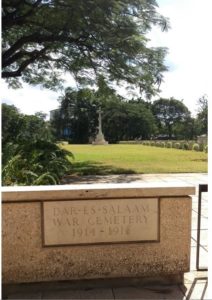 Pte Frank W Green 100041 4th Bn Royal Fusileers
Died from his wounds 25 Sept 1918 aged 21 or 22
Frank was the son of Mrs. Alice Leeks, of Red House Cottage, Hintlesham, Ipswich. He was born in Hintlesham and brought up by Alice and her (possibly second)  husband John.  Frank, like his step father, was a farm labourer and he enlisted in Ipswich and joined the Suffolks (service number formerly 27027). At a later stage he joined the 4 Battalion of the Royal Fusilers. Private F W Green died from his wounds and is buried at Sunken Road Cemetery, Boisleux-St.Marc, France.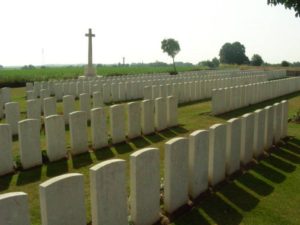 Pte Frederick John Green 42945 2nd Bn South Staffs
Died from his wounds 6 May 1918 aged 25
Frederick was the son of Charles and Sarah Green, of Old House Farm, Hintlesham, Suffolk. He was one of at least 8 children and in 1901 was living in George Street. Frederick married Agatha and originally served with the Suffolks.  Frederick died as a result of his wounds while serving with the South Staffordshire Regiment and is buried at Bac-Du-Sud British Cemetery, Bailleulval, Nr Arras.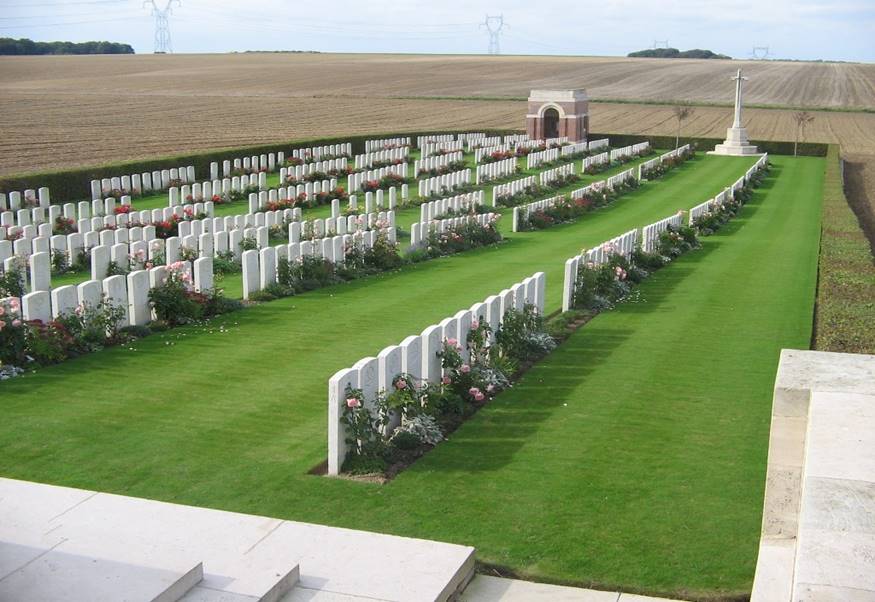 Pte Sidney M Green 27377 2nd Bn Grenadier Guards
Killed in action 28 Mar 1918
Sidney Maurice Green was born in Hintlesham and lived on Duke Street. His father, David was a labourer and his mother was called Annie. Sidney became a stockman before joining the Greadier Guards. His brother, Wilfred, was also killed as a result of WW1 (see below). Sidney was killed in action and is buried at Bucquoy Road Cemetery, Ficheux, France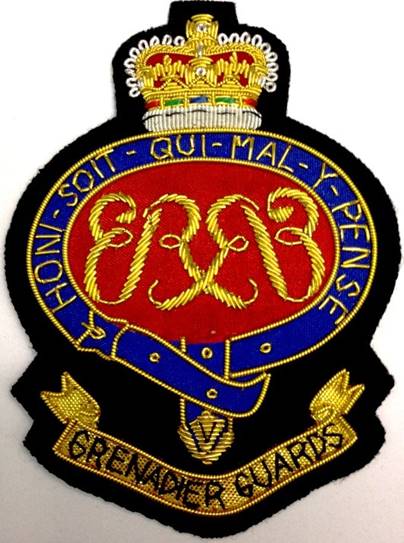 Sgt Wesley G Green 15082 2nd Bn Norfolk
Died 31 December 1919 aged 30
Wesley was the second son of Alfred and Mary Green of Duke St. and baptised in 1889. His father was a farm labourer and his mother a dress maker. n the 1911 census, Wesley is listed as a footman at Melford Hall in Long Melford. Wesley is buried at Haidar Pasha cemetery in Istanbul, Turkey. The cemetery was used by the Turks during the war for the burial of prisoners of war. After the Armistice, Istanbul was occupied and Wesley may well have been serving in the city at this time. Wesley had 2 brothers and 2 sisters. Frank Edgar Green, his younger brother (see above), also died in the war.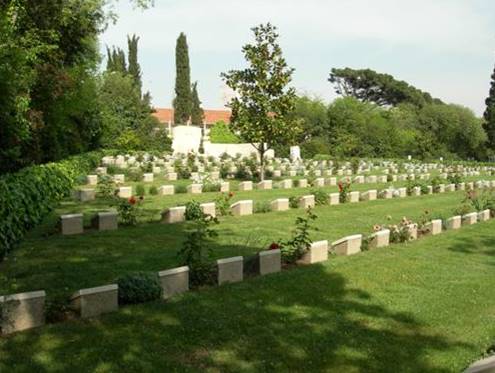 Pte Wilfred H Green 5232 / 202042 Suffolk Regiment
Died 26 April 1924 aged 32
Wilfred Henry Green was born and baptised in Hintlesham in 1891, the son of David and Annie Green. In the 1911 census,  his occupation was listed as domestic gardener and he was living with his parents in Duke Street.
Wilfred married Gertrude in 1914 and  served with the Suffolk Regiment.  He survived the war and according to family members he was a prisoner of war.  He returned to Hintlesham,  but in 1924 died as a result of his physical and mental injuries. At the time of his death,  it must have been felt he was as much a "casualty" of the war as those named on the memorial and his name was added at least 4 years after the memorial was unveiled.
Wilfred is buried in the graveyard adjacent to the war memorial at St Nicholas Church in Hintlesham.    The gravestone was fading and heavily covered in moss, but after cleaning it is now possible to make out the regimental crest of the Suffolk Regiment .  In spring,  daffodils and primroses grow on the grave (see photo).  Whether Wilfred was buried next to the memorial by purpose, or accident, it is nice to think of Wilfred resting close to his comrades from Hintlesham.
Wilfred's brother, Sidney, also died in the Great War.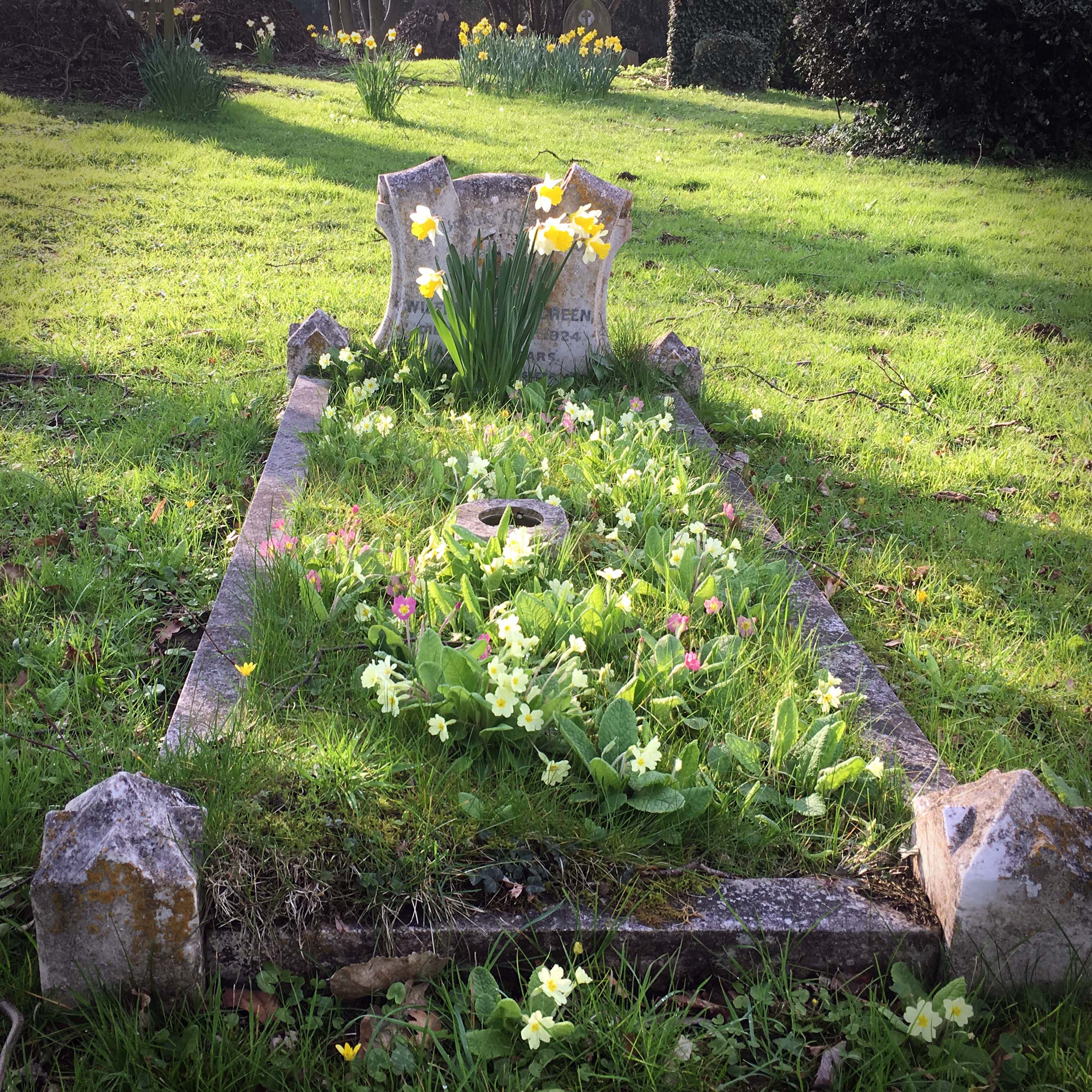 Pte Orlando Lloyd 7230 2nd Bn Suffolk
Killed in action 26 August 1914 aged 28
Orlando James Lloyd was killed in the first month of the Great War. He was the son of William and Esther Lloyd of Hintlesham and was born in Burstall in 1886. Orlando married Sarah Green in Bramford on 16 August 1913 and they had a daughter, Elwythe. Orlando enlisted in Ipswich and was a pre-war soldier who had served in Malta and Egypt. At the outbreak of war he was stationed at the Curragh in Ireland.
The battalion sailed to France via England and joined the British Expeditionary Force (see also Charles L Green above) on 17 August 1914. Nine days later Orlando died at the Battle of Le Cateau. Orlando is commemorated on the La Ferte-sous-Jouarre Memorial, Seine-et-Marne, France. There is also a memorial (see photograph) to the Suffolk Regiment near Le Cateau. (Regimental records list Orlando as Orlander & killed 9/4/15 - I believe these to be errors)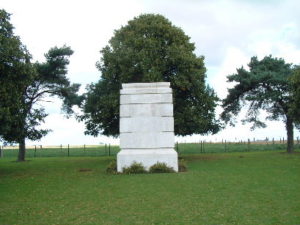 Gunner George D Marsh 88110 Royal Field Artillery 156 Brigade HQ
Died 9 April 1917 aged 32
George Dourn Marsh was born in London in 1884, the son of George and Mary Marsh. He was baptised at Notting Hill and at some stage moved to Suffolk and lived with his brother and his family in Ipswich. He was employed as a gardener. Gunner Marsh arrived in France on 14 December 1915. He is commemorated at Ste Catherine British Cemetery near Arras in France. (Photograph: Memorial to the Royal Artillery in London)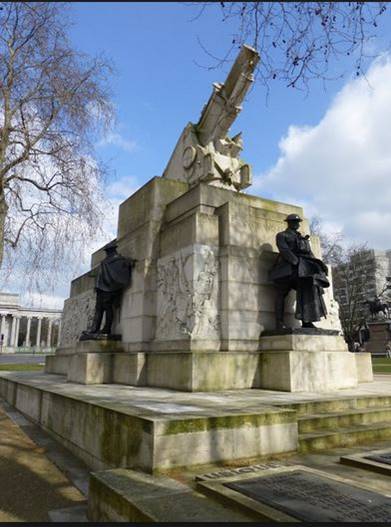 Pte Edwin Mower 6286 2nd Bn Suffolk
Killed in action 1 October 1915 aged 29
Edwin was born in 1886 in Hintlesham, although in some records it is recorded as Burstall. His father was John Mower. Edwin married Ellen in 1909 and had a son, Harold Edwin the following year. He enlisted in Ipswich and served in France & Flanders. He was killed in action and it appears Edwin's remains were "Known only unto God;" as a result he was listed on the Menin Gate memorial. However, they were discovered at the Old Sanctuary Wood cemetery (see photograph) and identified thanks to his dog tags and he was reburied in 1924 at the new cemetery at Sanctuary Wood. Edwin's name was subsequently removed from the Menin Gate memorial. He was inadvertently missed off the Burstall memorial, but in addition to appearing on Hintlesham's memorial,  Edwin  is listed on the East Bergholt  memorial inside the church. His wife Ellen remarried and lived on a farm at Bentley in Suffolk.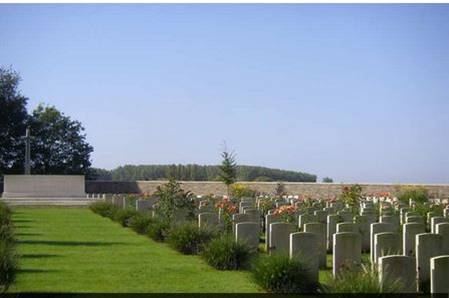 Pte Higham Peirson 3/10121 11th Bn Suffolk
Died 19 April 1918 aged 31
Higham was born in Hintlesham in 1887 and was brought up by his mother, Emma, on Duke Street. Higham was a labourer, enlisted in Ipswich and joined the 11 Bn Suffolks who were known as the Cambs/Suffolks. Higham landed in France in December 1915. Private Higham Peirson (also spelt Pearson) was one of 970 men from the battalion who died in the Great War. He was killed in action and buried at Suffolk Cemetery (see photograph) , La Rolanderie Farm, Erquinghem-Lys. Ref: II. A. 9 . The cemetery contains the graves of 43 soldiers from the UK of which 36 served with the 11th and 12th battalions of the Suffolks.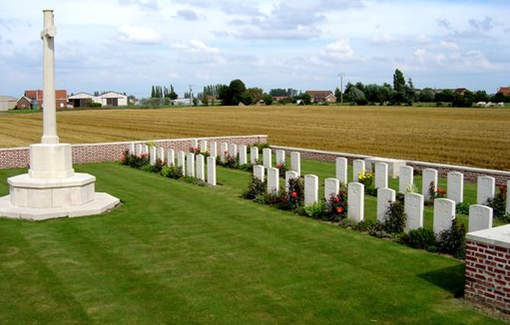 Pte John W Squirrel 16149 1st Bn Suffolk
Killed in action 25 May 1915 aged 30
John was born in Hintlesham on 15 June 1884, went to school in the village and was brought up at Cobbler's Corner. He became a stockman and married Ethel on 28 December 1908. At the time of the 1911 census, they were living on Back Road with Stanley William, their one year old son. John enlisted in November 1914 and his second son, Jack Reggie was born in January 1915.
John served as a Private with the 1st Battalion Suffolk Regiment. Following training, he arrived in France on Tuesday 18th May 1915. By the following week, 30 year old John was killed in action in Ypres. Like so many, he has no known grave and is commemorated on the Menin Gate Memorial in Ypres, Belgium. (On the Hintlesham memorial,  the listing is John W Squirrell)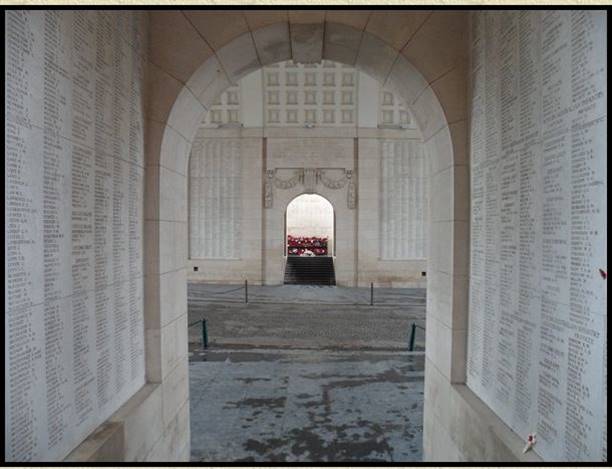 Pte Henry Thomas Tricker 15236 2nd Bn Suffolk
Killed in action 20 March 1915 aged 19
Henry was the son of Samuel and Ellen Tricker, of "California," Hintlesham, Ipswich.  Born in  Raydon, he was also known in the army as Harry.
He enlisted on 24th August 1914, was killed in action, believed to have shot by a sniper, and is buried at Suffolk Cemetery, Vierstraat in Belgium.  (The cemetery was created in 1915 by the Suffolk Regiment and 18 of the 47 burials are from the Suffolks.
A wooden poppy / cross in memory of Henry is regularly placed on the Hintlesham War Memorial.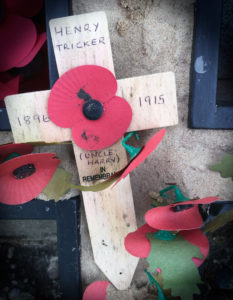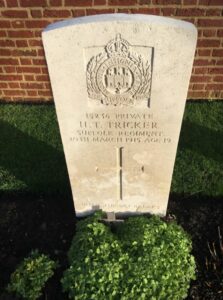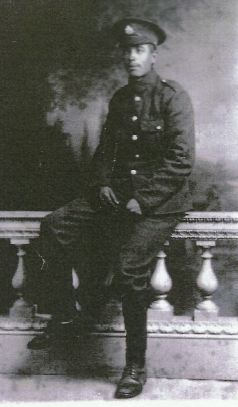 Pte James Vince 3717 4th Bn Suffolk
Died from his wounds 8 August 1916 aged 28
One of at least 10 children, James Robert Vince was born in Hintlesham and lived in Duke Street. His parents were Emma and Frederick.​ The family had lived at Lower Farm, Chattisham at the turn of the century (according to the 1901 census) but by 1911 James had left home. Private James Vince died of his wounds and is buried at Plot J12 Dernancourt Communal Cemetery (see photograph) near Albert on the Somme, France.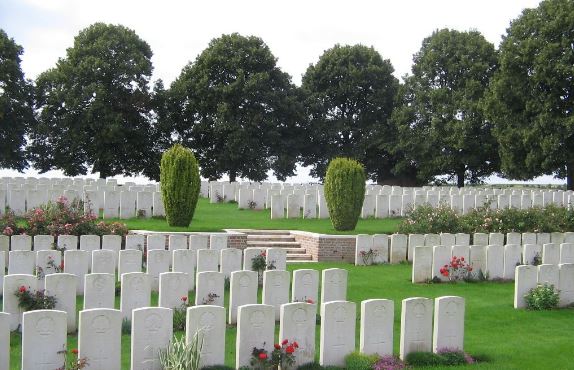 Gunner James Whiting 687259 Royal Field Artillery
Killed in action 24 August 1917 aged 33
James served in the Royal Field Artillery "C" Bty 276th Bde. Born in Hintlesham, he was the son of James and Mary Whiting of Chapel House, Hintlesham. Before the war he had worked as a gardener at Cornishead Priory - a grand hotel in Cumbria. In 1911 he was back in Suffolk living with his sister at Gusford Hall Cottage in Belstead. James is commemorated on the Tyne Cot Memorial (Panel 4 to 6 & 162) in Belgium which bears the names of almost 35,000 officers and men whose graves are unknown.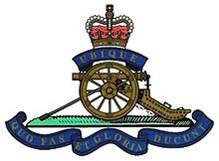 Pte Clarence William Anstruther Wilkinson 41 16th Bn Australian Imperial Force
Died from his wounds 5 May 1915 aged 29
Clarence William Anstruther Wilkinson was born 2nd March 1886 at the vicarage of St Mary the Virgin, Diss, Norfolk.  His mother was Harriet and his father, Rev. Anthony Anstruther Wilkinson,  became rector of St Nicholas Church in Hintlesham at the turn of the century.  Clarence, known as Bill within the family, was educated privately at home until he was enrolled at King Edward VI School, Bury St Edmunds in 1900.  On leaving school in 1902, he enrolled as an apprentice engineer at Trinity House Ships, London.
Clarence emigrated to Canada in September 1908, together with his brother Anthony Oswald Anstruther Wilkinson, to take up land in partnership, under a Canadian immigration and settlement scheme at Macleod, Alberta, Canada.  Prior to heading to Canada, he and Anthony spent several years at Mopea, along the Zambezi River, in Portuguese East Africa, working as sugar planters for his maternal uncle John Peter Hornung.
The well travelled 26 year old, Clarence, emigrated to Western Australia in 1912.  He farmed at Needilup, near Ongerup in partnership with John Bowles Allchorn, a friend from Hintlesham.  Clarence was single and enlisted at Helena Valley, Perth, WA (14th September 1914), within days of the outbreak of war.  Clarence's army training took him to Freemantle and then on to Melbourne from where he embarked for the war a couple of days before Christmas in 1914.
The 16th Battalion was stationed in Egypt before setting off for the ill-fated Dardanelles campaign.  They landed on the Turkish peninsula of Gallipoli on 25th April 1915. Clarence was part of E company.  After being heavily involved in establishing and defending the front line, Clarence received a puncture wound to the cheek. He was evacuated to the H.M.T. "Dongola" (see photograph) where, on the 5th May 1915, he died and was subsequently buried at sea.  Clarence was 29 when he died.
Clarence is commemorated on the war memorial in Hintlesham and on the Lone Pine Memorial, Gallipoli in Turkey.  He is is also commemorated on panel 81 in the Commemorative Area of the Australian National War Memorial (see update in NEWS section) in Canberra, the State Memorial, King's Park in Perth and on the War Memorial in Busselton in Western Australia  (photograph by Nick Savage, Margaret River, WA, Australia).
Clarence had four brothers (Clennell, Anthony, Fitzgerald and Thomas) who, as youngsters, sang in the choir at Hintlesham.  He also had two sister, Eileen and Norah.  Clarence's brothers all served in and survived the Great War.
Clennell, Clarence's eldest brother , was injured but survived the Somme in 1916.  In October 1916 he was married at Hintlesham Church to Kathleen Mona Martin and the service was conducted by his father.  Clennell went on to become a biographer (Richard Coeur De Lion, Nelson and Bonnie Prince Charlie and others) and critic of note and died in 1936.
Clarence's father, Rev Anthony Anstruther Wilkinson, was rector at Hintlesham from 1900 until 1919.  He spent his final years in North Wales where he died in 1937 aged 69.
(Grateful thanks to members of the family in Australia for updates, photographs and corrections)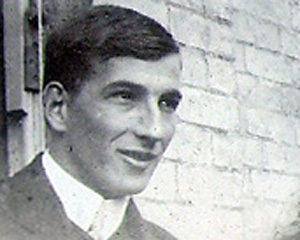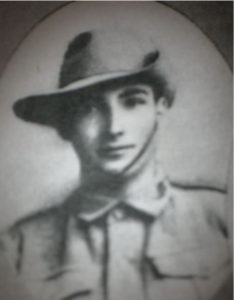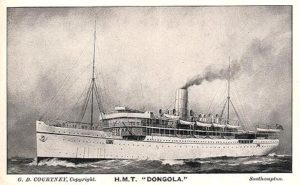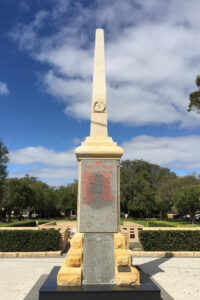 As they fell
Charles L Green     26 August 1914                     
Orlando J Lloyd     26 August 1914
Charles Chaplin     20 December 1914
Henry Thomas Tricker     20 March 1915
Clarence W Wilkinson     05 May 1915
John William Squirrel     25 May 1915
Edwin Mower     1 October 1915
Horace Gant     13 July 1916
James Vince     8 August 1916
Albert Game     18 August 1916
Thomas John Gant     29 September 1916
Percy Ellis     3 November 1916
George D Marsh     9 April 1917
James Whiting     24 August 1917
Arthur Green    8 November 1917
Frank E Green     1 December 1917
Sidney M Green     28 March 1918
Higham Peirson     19 April 1918
Frederick John Green     6 May 1918
Frank William Green     25 September 1918
Frederick Cuthbert     30 October 1918
Jack S Gant     19 November 1918
Wesley George Green     31 December 1919
Wilfred H Green    26 April 1924