The stories of the men commemorated on the memorials
Hintlesham World War 2
Poppies
In Flander's Fields
by John McRae
In Flanders fields the poppies blow
Between the crosses, row on row,
That mark our place; and in the sky
The larks, still bravely singing, fly
Scarce heard amid the guns below.
Chattisham World War 1
Chattisham World War 2
Welcome to www.HintleshamWarMemorial.com
There are 43 names on the war memorials in Hintlesham and Chattisham in Suffolk.  But who were they and what were their connections to this part of the world?   This website presents fragments of their lives and their relationship to this corner of England.  I hope you find what you are looking for. 
There is also a section devoted to other local men who died in the two World Wars who have local connections, but are not listed on our villages' memorials. 
As the years pass, the historic footprint left by those killed in war is deeper than that of those who survived. None the less, we also remember those who returned home from ALL conflicts, often bearing the physical and mental scars of war, for their service and sacrifice. 
HintleshamWarMemorial.com welcomes comments, corrections and especially your contributions of photographs and information.   
Thanks for visiting,
Gerald Main
11 November 2018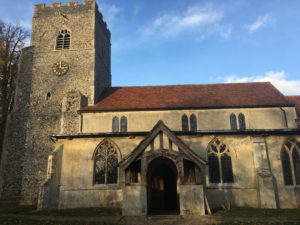 On Sunday 11 November 2018, it was the 100th anniversary of the Armistice.  The villages of Hintlesham & Chattisham marked the day with a series of special events including a Service of Remembrance in which 30 "local men" represented the fallen of the Great War in a piece of community drama entitled "Empty Chairs." 
The event was filmed and will appear here as soon as it is available.
There was also a ring of the village bells by a new bell team brought together especially for the event.   In the Community Hall people gathered to share wartime memorabilia, drink tea, eat cakes and many stayed for a presentation called "The Men Of The Memorial - 10 Amazing Tales."
Memorial Makeover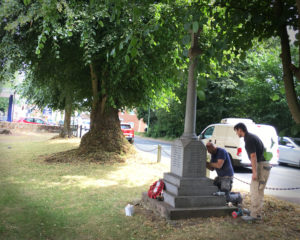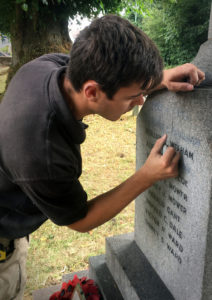 Over the last couple of years the memorial's condition has slowly, but surely, improved.  Gentle cleaning and several treatments of a herbicide spray has removed all of the moss, algae and lichen.  In July 2018,  Hintlesham & Chattisham Parish Council paid for Suffolk Masonry Services to repair and re-paint the lettering.
We Will Remember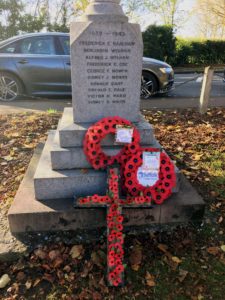 The annual Service of Remembrance took place at St Nicholas Church in Hintlesham on Sunday 12 November 2017 and was led by Jenny Cox. The names of the fallen from Hintlesham and Chattisham were read and a 2 minute silence observed.
Members of the congregation placed their poppies in a cross of remembrance and wreaths were laid on behalf of the Royal British Legion and Suffolk County Council.
"We Will Remember Them"
100 years on …
Hintlesham School
21st century
Children from Hintlesham & Chattisham Primary School regularly visit the memorial and learn about remembrance.
Photograph by kind permission of the school.
Before The Great War …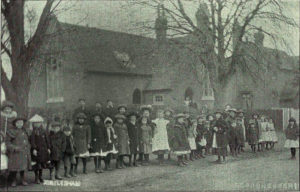 Hintlesham School 
early 20th century
"Who dare tell the lambs in spring,
What fate the later season brings?"
Spring's arrival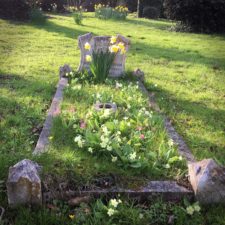 Primroses and daffodils bloom on the grave of Wilfred H Green who died on 26 April 1924.  His grave is adjacent to the Hintlesham war memorial which also bears his name.  He came home after the Great War,  but was physically and psychologically damaged.
For many years his gravestone was heavily covered in moss and lichen.  Now, Wilfred's details are only obscured by flowers in spring.
Speaker available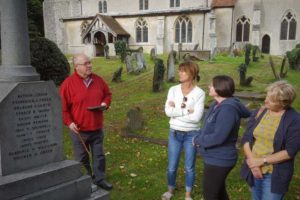 Gerald Main is an experienced presenter / lecturer and is available to give illustrated talks about the "Men on The Memorial".  Travelling expenses would be appreciated as would a donation to the War Memorial Trust.