The stories of the men commemorated on the memorials
There are over 40 names on the war memorials in Hintlesham and Chattisham in Suffolk.  They are read out each November at services of remembrance, but who were they and what were their connections to this part of the world?  Explore the site and discover fragments of their lives and details of where they fell.
As the years pass, the historic footprint left by those killed in war is deeper than that of those who survived. None the less, we also remember those who returned home, often bearing the physical and mental scars of war, for their service and sacrifice. 
HintleshamWarMemorial.com welcomes your comments, corrections and especially your contributions of photographs and information.  Thanks for visiting.
Lest We Forget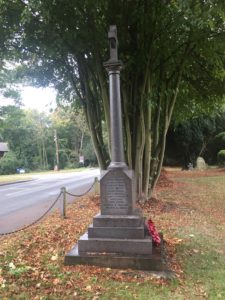 The annual Service of Remembrance was held at St Nicholas Church in Hintlesham on Sunday 13 November.  During the service, the names of the fallen from Hintlesham and Chattisham were read out and remembered.  
"We Will Remember Them"
Remembering Hintlesham & Chattisham in 1916
Across the generations
In the week of the 100th anniversary of the beginning of the Battle of the Somme, children from Hintlesham & Chattisham Primary School learn about remembrance.
Photograph by kind permission of the school.
Remembrance Sunday 1916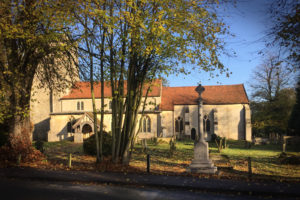 Autumn sunshine in Hintlesham on Remembrance Sunday 2016.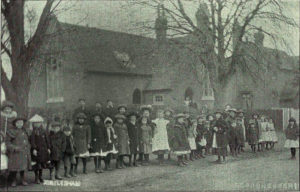 Hintlesham School 
early 20th century
"Who dare tell the lambs in spring,
What fate the later season brings?"