Chattisham - The Second World War
1939 - 1945
As they fell
Michael E Ryan   24 May 1940
Reginald A Powling   26 March 1942
Sidney H Wright    17 October 1943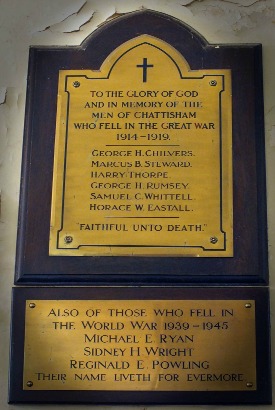 Stoker 1st Class Reginald A Powling DSM C/K 52210 HMS Legion
Killed 26 March 1942 aged 41
According to his service records, Reginald Powling was born in Hadleigh on 24 June 1900.  He was the son of Frederick and Mary Mower Powling who were living in Hadleigh Road Hintlesham in the 1911 census.  He joined the Navy in June 1918 and after training he  served on Dreadnoughts. In 1933 he was awarded a Long Service and Good Conduct medal.  He married Janice  (known also as Jenny) Elizabeth Michie Powling who  lived in Edinburgh.  He was awarded the DSM while serving on HMS Sabre.  Reginald was  a 1st Class stoker aboard HMS Legion when he died aged 41. HMS Legion was moored in French Creek, Malta, where she received a direct hit from bombs dropped by German aircraft which caused the ships magazine to explode.  On the Chattisham War Memorial Reginald  is listed as Reginald E Powling, but the census and his Commonwealth Graves listing indicate his middle name was Arthur - hence the listing should read Reginald A Powling.  Reginald is commemorated at the Chatham Naval Memorial.
Angela Patrick, a niece of Reginald, contacted the website from New Zealand to say he was known as Reggie and had a brother called Stanley who lived at Orchard Lea in Chattisham.  Another niece, Shirley Mower, from Hintlesham confirmed Reggie's middle name which appears in her family bible and contributed the cutting below.  Thanks to both for the photographs.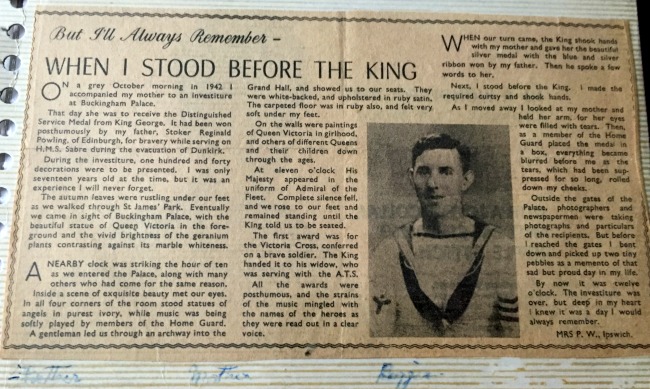 Pilot Officer Michael E Ryan 42154 RAF 235 Squadron
Killed in action 24 May 1940 aged 20
Michael was the son of Gerald Ellis Ryan 2nd Bart M.A. and Hylda Winifryde Ryan  of Chattisham. He was flying a Blenheim IV when his plane was shot down just off the Netherland's coast. There are more details about Michael, details of his final mission and pictures of his burial at aircrewremembered.com  He was buried with military honours at  Schiermonnikoog (Vredenhof) Cemetery - an island off the north coast of the Netherlands.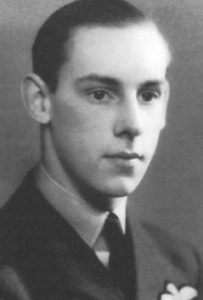 Pte Sidney H Wright 5828261 5 Bn Suffolk
Sidney was the son of Mr & Mrs Harry Wright from Chattisham.  He became a prisoner of war in the Far East and worked on the Burma - Siam railway. Sidney is buried at Thanbyuzayat Cemetery in Myanmar (formerly Burma) alongside 3,370 other Commonwealth and Dutch burials. 
Also buried at the same cemetery and from the same battalion of the Suffolk Regiment  are Frederick Baalham and Sidney Mower who are commemorated at Hintlesham.  Sidney died just four days after Frederick Baalham and six weeks after Sidney Mower.